Ultrasound Guided Dry Needling
Diagnostic Ultrasound for the Assessment & Dry Needling Treatment Of Tendinopathy
The purpose of the Diagnostic Ultrasound for the Assessment & Dry Needling Treatment Of Tendinopathy course is to obtain knowledge and clinical skills necessary to evaluate joints and associated muscles and tendons and effectively treat common areas of tendinopathy. This 16 -hour applied-learning course combines live demonstrations and practical hands-on labs. Students participate in small groups of 2 or 3 to practice getting reliable and reproducible images, which will be evaluated by the instructor with individual feedback provided. Supervised lab sessions are performed to safely and effectively visualize, and dry needle pathologic tendons and other soft tissue structures.

Pudendal and Perineal nerve regions are addressed for advanced pelvic treatment.
---

Peripheral nerve mapping provides a logical and systematic process for addressing pelvic pain and dysfunction.
---
---
Because of the neuroanatomy of the pelvic floor the dry needling techniques taught in this course do not require direct needling of the external genitalia and can be performed without disrobing the patient.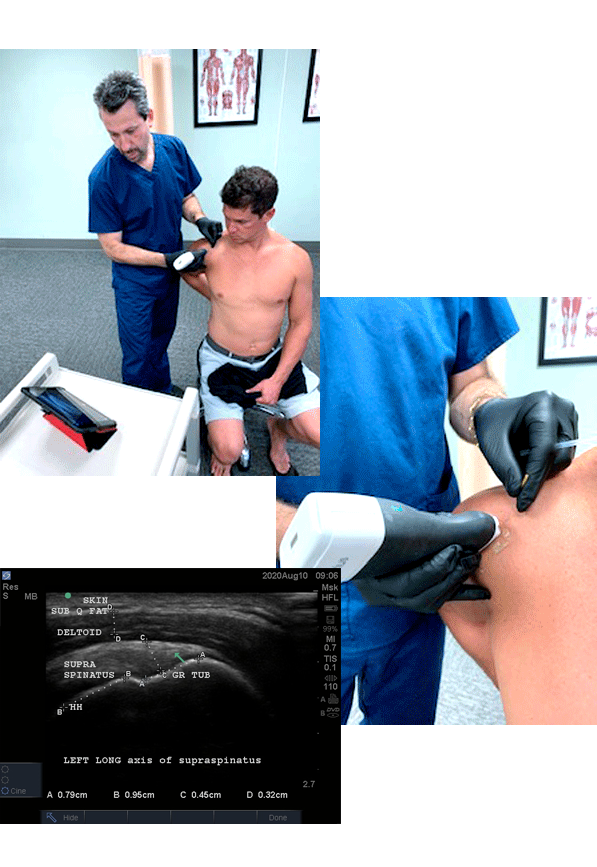 ---
To gain advanced knowledge on how to improve your clinical outcomes on difficult conditions that have not responded to conventional treatment. Traditionally, the standard of care for evaluation is to conduct a patient history and perform various clinical manual assessments. Adding MSK Ultrasound to your clinical evaluation improves the validity and reliability of your musculoskeletal diagnosis by real-time images and motion analysis.
Combining MSK Ultrasound with dry needling treatment will improve your clinical outcomes on difficult conditions (like tendinopathies) that have not previously responded to conventional treatments.
---
The 5 P's of MSK Ultrasound to provide consistent and reliable images.
Cutting edge techniques for the assessment and treatment of difficult soft tissue injuries.
Reduce the guesswork when diagnosing soft tissue dysfunction.
Improve patient engagement by providing visual feedback about what is going on in their body using real time ultrasound images.
Confidently identify and dry needle into pathological tendons and other soft tissues.
Join us and be on the leading edge of the future of musculoskeletal care!
---
---
The Cost Effectiveness of Ultrasound Guided Dry Needling
---
---
Reasons to Take IDN's Ultrasound Guided Dry Needling Course
---
---
Ultrasound Guided Dry Needling is Cutting Edge Technology
---
---
Benefits of Ultrasound Guided Dry Needling
---
---
Ultrasound Guided Dry Needling, Patient Satisfaction