IDN Foundation Course – Frisco, TX
<![CDATA[The purpose of the Neurologic Dry Needling for Pain Management and Sports Rehabilitation Course is to obtain knowledge and clinical skills necessary to diagnose and treat soft tissue pain and dysfunction using the Integrative Dry Needling (IDN) concept.  This 27-hour applied-learning course combines interactive lectures and practical hands-on labs. Students participate in several practical sessions, which are intended to provide feedback to students regarding their comprehension of key concepts and techniques. These practical lab sessions enable students to critically self-evaluate if additional instruction or self- study is needed for clinical competency. 
[tabby title="Description"]
IDN Foundation Course  – Neurologic Dry Needling for Pain Management and Sports Rehabilitation
Neurologic Dry Needling for Pain Management and Sports Rehabilitation is the culmination of the work and clinical experience of Dr. Yun-tao Ma and Dr. Frank Gargano DPT. The Integrative Dry Needling (IDN) training program will develop the knowledge and clinical skills required to effectively diagnose and treat painful neuromuscular conditions. IDN teaches you to treat the body systemically; we do not divide the body into upper and lower halves requiring you to take 2 courses before you can treat the entire body.  Our system is built on the foundation of Neurological Dry Needling that provides a logical and systematic process for addressing pain and dysfunction.  As a result, course participants develop an adaptable clinical procedure allowing immediate integration of dry needling into clinical practice. [tabby title="Objectives"]
Course Content
The Integrative Dry Needling Foundation Course for Pain Management and Sports Rehabilitation covers:
Dry needling techniques- (80% of the needling technique is virtually pain-free)
Detailed, tried and tested needling safety techniques and contraindications for dry needling therapy to avoid human error in clinical practice.
Modifiable dry needling system that easily adapts to clinical practice and to the specific needs of each patient.
Systemic Homeostatic trigger point concept (physiological and biomechanical approach).
Paraspinal trigger point concept (neurosegmental and dermatomal approach).
Symptomatic trigger point concept (neuromyofascial pain in the head, neck, shoulder, upper limbs, thoracic, lumbar, hip and lower limbs).
Learning Objectives
At the end of this course, participants will be able to:
Develop the psychomotor skills necessary to effectively demonstrate and deliver dry needling treatment during the mastery lab sessions.
Acquire the knowledge and clinical skills necessary to evaluate and treat all types of myofascial pain and soft tissue dysfunction.
Describe the practical applications of the physiological mechanisms of needling during the mastery lab sections
Describe the neuroanatomy and physiology of trigger points, and the unique concepts of the IDN system during the case study portion of the course.
Provide safe and effective needling treatment, including preventing and managing adverse responses to needling.
Integrate dry needling treatment into their physical therapy, chiropractic or medical practice.
Learning Activities
The
27 hour intensive practical classroom
structured program addresses theory and key principles with extensive and supervised participant practice.
Multiple PowerPoint presentations with video support will begin each new section.
Instructor demonstration of the techniques allowing ample time for questions.
Interactive lab session will follow where the participants practice and discuss each new technique and concept.
After each interactive lab section is concluded there is an instructor summary and time for any additional questions.
[tabby title="Agenda"]
| | |
| --- | --- |
| Day 1 | |
| 8:00 – 10:00 | Physiological mechanisms of dry needling; peripheral and central mechanisms; specific and non-specific mechanisms |
| 10:00 – 11:00 | Presentation of Integrative Dry Needling System |
| 11:00 – 12:00 | Gross neuroanatomy of Integrative Dry Needling Trigger Point System |
| 12:00 – 1:00 | Lunch break |
| 1:00 – 2:00 | Physiology of different types of trigger points |
| 2:00 – 3:00 | Neuroanatomy of primary homeostatic trigger points. Cutaneous and muscular points. Palpation techniques. |
| 3:00 – 5:30 | Practice: Surface anatomy and location of primary homeostatic trigger points. Palpation techniques. |
| 5:30 – 6:30 | Needling techniques: insertion. Safety techniques. |
| Day 2 | |
| 8:00 – 10:00 | Concepts of pain management in dry needling medicine.  Concepts of soft tissue dysfunction. |
| 10:00 – 12:00 | Clean needling technique. Safety issues: Anatomical analysis and literature survey. |
| 12:00 – 1:00 | Lunch |
| 1:00 – 2:00 | Needling technique and palpation. Lower limb dysfunction and pain. Lumbosacral plexus Safety issues |
| 2:00 – 3:00 | Needling technique and palpation. Dysfunction and pain in cervical and lumbar area.  Cervical plexus and lumbar plexus. Safety issues. Practice |
| 3:00 – 4:00 | Needling technique and palpation. Dysfunction and pain in facial area and upper limb.  Cranial nerves and brachial plexus.  Safety issues. Practice |
| 4:00 – 5:00 | Needling technique and palpation. Dorsal spinal nerves and paravertebral trigger points. Dorsal rami of spinal nerves. Safety issues. Practice |
| 5:00 – 6:30 | Needling technique and palpation.  Systemic approach in pain management and soft tissue dysfunction.  Modification of standard protocol. Practice |
| Day 3 | |
| 8:00 – 9:00 | Functional anatomy of Integrative Systemic Trigger Points. Practice |
| 9:00 – 10:00 |  Systemic trigger points approach in treating local symptoms: Face and Neck. Practice |
| 10:00 – 11:00 |  Systemic trigger points approach in treating local symptoms: upper back and upper limbs. Practice |
| 11:00 – 12:00 |  Systemic trigger points approach in treating local symptoms: Lower back and lower limbs. Practice |
| 12:00 – 1:00 | Lunch |
| 1:00 – 4:00 | Systemic integration of needling. Practice |
| 4:00 – 5:00 | Theoretical and practical examination |
[tabby title="Faculty"] [caption id="attachment_2135" align="alignleft" width="160"]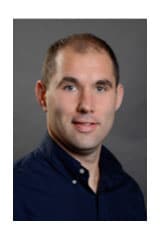 Dr. David Griswold[/caption] Dr. David Griswold received his certification in dry needling through Dr. Ma's Biomedical Dry Needling Institute. Clinically, David has specialized in orthopedic manual therapy, dry needling, and vestibular rehabilitation. Dr. Griswold is also a Certified Orthopedic Manual Therapy (COMT) through Maitland Australian Physiotherapy Seminars and a Certified Mulligan Concept Practitioner (CMP). His current research projects include the use of orthopedic manual therapy for the treatment of mechanical neck pain and the neurophysiological effects of dry needling. [tabby title="Travel & Accommodations"]
Airport :
DFW –
Dallas Fort Worth International Airport
~ 28 minutes away from the course
Hotel Options :
Miscellaneous :
Large parking lot outside of our facility [tabby title="Reviews"]
Student Reviews & Testimonials
"I have taken a dry needling course in the past and I've had success with treating patients with this modality. However, this course brought home a lot of the points I missed in that first course. This course is clear, concise, and has left me feeling comfortable needling difficult areas such as the anterior cervical, groin and suboccipital regions. All in all an excellent course that has definitely enhanced my PT "toolbox". Sandy Davis PT (Sept 14')
'Integrative dry needling is a great system of training. Multiple theories and approaches are brought together to create a truly integrated model. Frank and David spent a lot of one-on-one time with you to ensure your understanding. They did a great job of keeping the class fun and interesting. I would highly recommend this class to any healthcare provider." Patrick Danielson PT, DPT, ATC (Sept 14')
"I feel that I can use this in my practice right away and I would like to come back for more advanced course training.' Limary Rios, MD (June 14')  "As someone who is still considered a newly licensed PT, this course has helped to change and improve my decision-making regarding numerous conditions. This course has provided an excellent opportunity for me to build my arsenal of diagnostic and treatment options. I highly recommend this course to any PT, especially those of us who are new independent practitioners." Michael Ryan Hartman, PT, DPT (June 14')
More Reviews
[tabbyending]]]>
IDN Foundation Course – Frisco, TX