IDN Advanced Course – Fairfax VA
<![CDATA[The purpose of the Integrative Dry Needling ADVANCED course for Pain Management and Athletic Performance is to provide our students with a deeper understanding of the therapeutic effects of dry needling on neuropathic and radiculopathic pain syndromes. Pre-requisite: Completion of Integrative Dry Needling for Pain Management & Sports Rehabilitation. Continuing Education: Approved for 33 CCU's for the states certified by the Federation of State Boards of Physical Therapy. View list of states [tabby title="Description"]
Dry Needling – Pain Management & Athletic Performance
This course is designed for licensed Physical Therapists however M.D.'s, D.O.'s. DC's, PA's, RN's and CNP's specialized in treating musculoskeletal pain can benefit and easily implement the information into their clinical practice. This Advanced course is one of a kind.  It is designed to provide our students with a deeper understanding of the therapeutic effects of dry needling on neuropathic and radiculopathic pain syndromes.   The examination and management of peripheral nerve inflammation/sensitization, neuromuscular dysfunction and biomechanical imbalance of the musculoskeletal system will be presented. We will discuss the negative effects that peripheral nerve inflammation has on muscle function and how integrative dry needling can assist in maximizing human (athletic) performance.   Integration of Manual Therapy and other treatment options will be included that will compliment the efficacy of dry needling treatment.  A considerable amount of lab time is focused on assuring safe and effective advanced dry needling skills with an emphasis on clinical decision-making.
Course Content
Advanced Integrative Dry Needling for Pain Management and Human Performance course will discuss:
Integration of dry needling into physical and manual therapy treatment.
Advanced dry needling techniques for optimizing human performance.
Clinical safety issues for administering dry needling.
Understanding of the anatomy and physiology of soft tissue healing timeframe and dry needling technique for tissue remolding,
Clinical techniques for examination and management of peripheral nerve inflammation and neuromuscular dysfunction,
Assessment of biomechanical imbalance of musculoskeletal system and dry needling techniques for rebalancing biomechanics,
Pre and post-symptom treatment in athletic performance,
How peripheral nervous system inflammation influences musculoskeletal dysfunction and how to manage it with Integrative Dry Needling
Review of evidence-based research data.
Learning Objectives
At the end of this course, participants will be able to:
Participants will be able to accurately and efficiently identify peripheral neuro-trigger points in order to effectively examine and treat patients with neuromuscular conditions.
Participants will demonstrate the knowledge and clinical skills necessary to evaluate and treat myofascial pain, soft tissue dysfunctions and biomechanical imbalance by the end of the course.
Apply and synthesize the knowledge in the practical applications of the anatomy and physiology of soft tissue healing and tissue remodeling during the case study analysis and discussions.
Participants will demonstrate the use of integrative dry needling concepts, including specific areas or regions to treat based on particular conditions, dosage parameters for treatment, and safe needling practices, specifically for injury prevention and human performance enhancement.
Participants will demonstrate the ability to provide safe and effective needling treatment, including preventing and managing adverse responses to needling  based on OSHA standards with 100% accuracy by the end of the seminar.
Participant will acquire the necessary knowledge and psychomotor skills to enable them to apply integrative dry needling techniques concurrently with other physical, manual therapy and exercise concepts.
Participant will develop the psychomotor skills necessary to safely and effectively deliver advanced dry needling treatment during each practical lab sessions with 100% accuracy.
How this course is relevant to Physical Therapy Practice:
Daily in clinical practice Physical Therapists manage soft tissue pain and dysfunction through various techniques from massage, modalities and manual therapy.  Dry needling has recently become an accepted treatment modality performed by Physical Therapists to address the unique characteristics of soft tissue pain and dysfunction.  The popularity and use of dry needling is increasing in the field of Physical Therapy and there are several methods and schools of thought on how to integrate dry needling into clinical practice.   This course provides a working framework, within the scope of a Physical Therapists knowledge and practice, to deliver effective and safe dry needling treatment.
Learning Activities
The structure of this course 27-hour intensive practical classroom program addresses theory and key principles with extensive supervised participant practice.
Multiple Keynote presentations with video support will begin each new section.
Instructor demonstration of the techniques allowing ample time for questions.
Interactive lab session will follow where the participants practice and discuss each new technique and concept.
After each interactive lab section is concluded there is an instructor summary and time for any additional questions.
Approved States for 33 CCU's by the Federation of State Boards of Physical Therapy
Alabama
Arizona
California
Delaware
District of Columbia
Georgia
Indiana
Kansas
Kentucky
Montana
Nebraska
North Carolina
Oregon
South Carolina
Tennessee
Utah
Vermont
Virginia
Wisconsin
[tabby title="Agenda"]
| | |
| --- | --- |
| Day 1 | |
| 8:00 – 9:00 | Physiological mechanisms of dry needling associated with peripheral sensitization (lecture) |
| 9:00 – 10:00 | Major neuromuscular point of the Cranial and facial regions [Lab] |
| 10:00 – 10:15 | Break |
| 10:15 – 12:00 | Major neuromuscular points of cervical region [Lab] |
| 12:00 – 1:00 | Lunch break |
| 1:00 – 3:00 | Major neuromuscular points of the upper limbs (brachial plexus) [Lab] |
| 3:00 – 3:15 | Break |
| 3:15 – 4:30 | Major neuromuscular points of the lumbopelvic region [Lab] |
| 4:30 – 6:30 | Major neuromuscular points of the lower limbs [Lab] |
| Day 2 | |
| 8:00 – 10:00 | Dry Needling of anterior and posterior Cervical spine [Lab] |
| 10:00 – 10:15 | Break |
| 10:15 – 12:00 | Dry Needling of cranial and facial region [Lab] |
| 12:00 – 1:00 | Lunch |
| 1:00 – 3:00 | Dry Needling of the upper extremity to include upper brachial points [Lab] |
| 3:00 – 3:15 | Break |
| 3:15 – 4:30 | Dry Needling of the Lumbosacral plexus [Lab] |
| 4:30 – 6:30 | Dry Needling of the lower extremity peripheral points [Lab] |
| Day 3 | |
| 8:00 – 9:00 | Microcirulation [Lecture] |
| 9:00 – 10:00 | Microcirculation [Lab] |
| 10:00 – 10:15 | Break |
| 10:15 – 12:00 | Manual therapy integration with Advanced Integrative Dry Needling for peripheral neuromuscular dysfunction |
| 12:00 – 1:00 | Lunch |
| 1:00 – 3:00 | Lab practice based on case study treatment examples |
| 3:00 – 3:15 | Break |
| 3:15 – 4:15 | Lab practice based on case study treatment examples |
| 4:15 – 4:30 | Final Question and Answer period prior to course examinations |
| 4:30 – 6:30 | Written and Practical Examinations |
[tabby title="Faculty"] [caption id="attachment_549" align="alignleft" width="240"]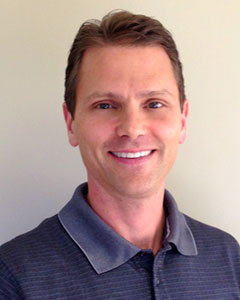 Dr. Frank Gargano[/caption]
Dr. Frank Gargano
PT, DPT, OCS, CIDN, MCTA, CWT has 23 years of orthopedic physical therapy experience with the majority of those years as the owner of a successful private practice.    In 1999 he became Board Certified in Orthopedics through the American Physical Therapy Association. In 2004, he was the recipient of the Ohio Chapter's award for outstanding clinical excellence in recognition of his contribution to the practice of Physical Therapy. Dr. Gargano and Dr. Ma have been working and training together since 2009.   Their varied clinical skills and experiences bring a new perspective to the use of a dry needling for musculoskeletal pain and dysfunction.  Working side by side in clinical situations they are able to gain new perspectives on combining their treatment philosophies.  Together they continue to expand and develop new concepts relating to the Integrative Dry Needling (IDN) Courses. [tabby title="Travel & Accommodations"]
Airport :
 Dulles (IAD) about 10 miles from the venue
Hotel Options :
Hilton – 3950 Fair Ridge Dr, Fairfax, VA 22033 703-385-7774 1 mile from venue Extended Stay America – 3997 Fair Ridge Dr, Fairfax, VA 22033  703-359-5000 1 mile from venue. [tabby title="Reviews"]
Reviews & Testimonials
More Reviews on Advanced Courses
Dry Needling has completely changed the way I look at the human body. It helps my family, my patients and my friends. Unbelievable success. -Christine Rosenkrantz, DC The Advanced course gave me more confidence in needling delicate/ complicated areas of the neck and more confidence in my X-ray vision of important major nerve pathways. It also helped me to tailor my needling approach differently for athletes versus the general population. -Lory Erickson. MPT, Los Alamos, NM I have had amazing success after the fundamental course. After the Advanced course I have developed a sense of pride in what I do and can do, I'll promote the use of IDN in our profession and community. I can not thank you enough for a knowledge and compassion you share! -Ashley Williams, PT, DPT
[tabbyending]]]>
IDN Advanced Course – Fairfax VA