IDN Foundation Dry Needling Course – Boston, MA
August 17, 2018

-

August 19, 2018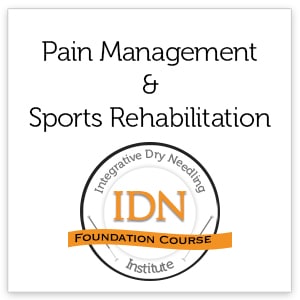 The purpose of the Neurologic Dry Needling for Pain Management and Sports Rehabilitation Course is to obtain knowledge and clinical skills necessary to diagnose and treat soft tissue pain and dysfunction using the Integrative Dry Needling (IDN) concept.  This 27-hour applied-learning course combines interactive lectures and practical hands-on labs. Students participate in several practical sessions, which are intended to provide feedback to students regarding their comprehension of key concepts and techniques. These practical lab sessions enable students to critically self-evaluate if additional instruction or self- study is needed for clinical competency.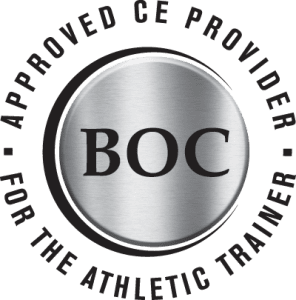 Description
IDN Foundation Course  – Neurologic Dry Needling for Pain Management and Sports Rehabilitation
Neurologic Dry Needling for Pain Management and Sports Rehabilitation is the culmination of the work and clinical experience of Dr. Yun-tao Ma and Dr. Frank Gargano DPT. The Integrative Dry Needling (IDN) training program will develop the knowledge and clinical skills required to effectively diagnose and treat painful neuromuscular conditions.
IDN teaches you to treat the body systemically; we do not divide the body into upper and lower halves requiring you to take 2 courses before you can treat the entire body.  Our system is built on the foundation of Neurological Dry Needling that provides a logical and systematic process for addressing pain and dysfunction.  As a result, course participants develop an adaptable clinical procedure allowing immediate integration of dry needling into clinical practice.
Objectives
Course Content
The Integrative Dry Needling Foundation Course for Pain Management and Sports Rehabilitation covers:
Dry needling techniques- (80% of the needling technique is virtually pain-free)
Detailed, tried and tested needling safety techniques and contraindications for dry needling therapy to avoid human error in clinical practice.
Modifiable dry needling system that easily adapts to clinical practice and to the specific needs of each patient.
Systemic Homeostatic trigger point concept (physiological and biomechanical approach).
Paraspinal trigger point concept (neurosegmental and dermatomal approach).
Symptomatic trigger point concept (neuromyofascial pain in the head, neck, shoulder, upper limbs, thoracic, lumbar, hip and lower limbs).
Learning Objectives
Independently identify each of the three types of trigger points (homeostatic, paravertebral and symptomatic) in a given case study.
Integrate the physiological mechanisms of needling when developing a treatment plan for a given musculoskeletal condition.
Discuss the prevention and management of adverse responses to dry needling based on OSHA requirements with 100% accuracy during case study.
Independently apply dry needling treatment safely into musculoskeletal trigger points during lab sessions.
Independently evaluate soft tissue dysfunctions relating to a given musculoskeletal condition and pain.
Correctly defend the IDN system for treatment of musculoskeletal pain based on the unique neurology and physiology of neuro-trigger points.
Independently discuss integrating the IDN system into the participant's physical therapy practice in relation to current clinical, legislative and billing barriers.
Learning Activities
The 27 hour intensive practical classroom structured program addresses theory and key principles with extensive and supervised participant practice.
Multiple PowerPoint presentations with video support will begin each new section.
Instructor demonstration of the techniques allowing ample time for questions.
Interactive lab session will follow where the participants practice and discuss each new technique and concept.
After each interactive lab section is concluded there is an instructor summary and time for any additional questions.
Agenda
| | |
| --- | --- |
| Day 1 | |
| 8:00 – 10:00 | Introduction of the systems: Physiological mechanisms of dry needling; peripheral and central mechanisms; specific and non-specific mechanisms |
| 10:00 – 11:00 | Needling insertion techniques using ½"- 1" needle. Needle handling and discussion on low blood pressure and safety techniques. Lab practice |
| 11:00 – 12:00 | Neuroanatomy of neuro-trigger points and Development of Homeostatic neuro-trigger points |
| 12:00 – 1:00 | Lunch break |
| 1:00 – 2:00 | Development of neuro-trigger points and physiology of different types of trigger points |
| 2:00 – 3:00 | Quantitative Analysis of peripheral to central sensitization- Lab practice |
| 3:00 – 4:00 | Dry needling research Lecture |
| 4:00 – 6:30 | Surface anatomy of neuro-trigger points in head, cervical, trunk, upper & lower extremities, |
| Day 2 | |
| 8:00 – 9:30 | Safety considerations including adverse reactions, contraindications to dry needling, OSHA guidelines and Blood Borne Pathogens. |
| 9:30 – 11:00 | Needling technique Lab- 3" needling of the hip, and pelvic region. Safety issues. Practice. |
| 11:00 –12:30 | Needling technique Lab-2": (2:2 Concept)- Lumbosacral plexus, Cervical and Shoulder region. Safety issues. Practice |
| 12:30 – 1:30 | Lunch |
| 1:30 – 2:30 | Needling technique Lab-1": Thoracic spine (1:1 Concept), extremity (1).  Safety issues. Practice. |
| 2:30 – 4:00 | Needling technique Lab: Craniofacial and cranial nerve pain and dysfunction including muscles of mastication.  Safety issues. Practice. |
| 4:00 – 5:00 | Needling technique Lab: Anterior trunk and abdominals. Safety issues. Practice. |
| 5:00 – 6:30 | Needling technique Lab:  Lower Extremity. Safety issues. Practice. |
| Day 3 | |
| 8:00 – 8:30 | Integrative Dry Needling for Performance (Athletic) Enhancement lecture |
| 8:30 – 10:00 |  Electrical Nerve Stimulation (ENS) application and safety issues.  Specialty needling techniques & practice. |
| 10:00 – 12:00 |  Needling technique Lab: Anterior cervical spine and suboccipital region. Safety issues. Practice. |
| 12:00 – 1:00 |  Lunch |
| 1:00 – 2:00 | Administrative Discussion: Consent to treat, political & legislative issues effecting practice, marketing, and final details of the administrating the practice of dry needling in your clinic. |
| 2:00 – 3:00 | Systemic integration of needling. Practice |
| 3:00 – 6:00 | Written and practical examinations |
Travel & Accommodations
Airport : BOS: Boston Logan International Airport
Hotel Options :
Hotel Commonwealth ($$$) – 5 minute walk to the course location.
Holiday Inn Brookline ($$)  (617) 277-1200
Hyatt Cambridge ($$-$$$)
Course Location:
Boston University College of Health and Rehabilitation Sciences: Sargent College
Department of Physical Therapy and Athletic Training Teaching Laboratory
635 Commonwealth Avenue, B-08
Boston, MA 02215
Parking:
Friday:  Parking Lot N (use 665 commonwealth avenue in GPS) is open on Friday at 7am and is $17.00 for the day. 
Saturday: Lot N is open Saturday as well, but they will likely be charging event rate ($35/day) because of the baseball game.  The game is at 7:05 pm, and it is not clear what time they start charging the event rate for parking.  They also sometimes block cars in with game parking, so it may be better to try either 700 Commonwealth Avenue, or the other option is Lot A (Agganis Arena garage, 925 Commonwealth Avenue), which charges $14 a day and is a 15 minute walk to Sargent College, (or you can catch the MBTA Trolley from Pleasant Street to Boston University East).
Sunday: Lot N is closed, but the meters are free on street all day. Since the course starts early, there should be no problem finding a spot on the street.  You can park right in front of building on Commonwealth Avenue or on Bay State Road.   
Reviews
Student Reviews & Testimonials
Excellent course for learning the technical skills of dry needling, as well as comprehensive review of the functional neurology. I would highly recommend this course.
by:
Lee Tingle
- PT
June 3, 2018
Related Events