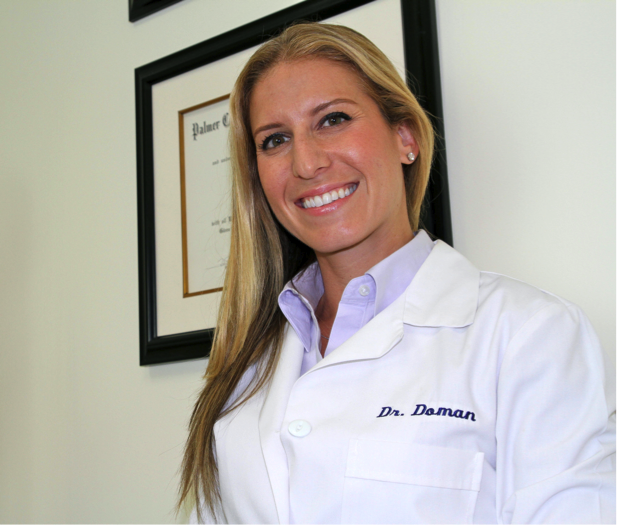 Sandra L. Doman
Dr. Sandra Doman is a chiropractor and registered yoga teacher. She has created a new model of eliminating orthopedic pain without drugs and surgery through an integrated approach that uses yoga as a form of therapy to help musculoskeletal injuries.   Dr. Doman has since dedicated her life to sharing the gift of yoga in a healthcare setting since 2010 by opening Miami's first physician-supervised yoga therapy center, Miami Sports Chiropractic & Yoga Center.
Dr. Doman has been on the Board of Directors for the Florida Chiropractic Association since 2017 and was a 3-year President of the Dade County Chiropractic Society.   Miami Sports Chiropractic & Yoga Center is located in Aventura Florida, as well as a satellite facility at Gulfstream Park for the jockeys.  Dr. Doman is adjunct faculty for National University of Health Sciences in Chicago.  She is an avid surfer, rowed on the crew team at Lehigh and competed in the equestrian sport, eventing.  She lives with her husband, Eric, and two children in Hollywood, FL.
She developed 'Dr. Doman's Guide to Working with Injuries©', a program to teach yoga teachers how to work with musculoskeletal injuries and serves as the orthopedic injuries educator for all Equinox clubs in South Florida.  She was the on-site chiropractor for the Dwyane Wade, University of Miami, and Shaquille O'Neill basketball camps
Credentials: DC
She earned her doctorate with honors from Palmer College of Chiropractic, Florida Campus and holds a B.S. in Business and Economics from Lehigh University in Pennsylvania.
Teaching & Lectures
Dwayne Wade Fantasy Basketball Camp. Yoga for Basketball. Miami Beach, FL. August 2012, 2013, 2014.
Yoga for Back Pain.  February 2013.  Miami Chiropractic Conference, taught 1 hour of continuing education.
Yoga and the Chiropractic Patient. February 26, 2012. Miami Chiropractic Conference, taught two hours of continuing education for chiropractors.
Electrodiagnosis. Dade Country Chiropractic Society. April 2011. Panelist at general meeting. Reviewed clinical indications for EMG/NCV.
Personal Trainer Forum. Equinox Fitness Club. Aventura. June 2010 – 2013. Review of anatomy, injuries and rehabilitative exercise for all personal trainers. Monthly on-going.
Dr. Doman's Guide to Working with Injuries©. January 2010 – Present. Miami, Florida. Created 20 hour certification program for yoga teachers on the subject of teaching students who have common musculoskeletal injuries. On-going.
The Subluxation: A Fresh Perspective. February 2010. Miami, Florida. Investigating the proposed neurological mechanisms and evidence in support of spinal manipulation. Key note speaker for the general meeting of the Dade County Chiropractic Society.
Well Adjusted: Unique Opportunities in Co-Management with Chiropractors. April 2010. Chicago, Illinois. Role of evidence-based chiropractors to work with therapists and address the psychosomatic aspect of healing in manual therapy. Guest lecturer for the Wellness Committee and Primary Care Concentration at the Adler School of Psychology.
The intermedius nucleus of the medulla: A potential site for the integration of cervical information and the generation of autonomic responses. May 2010. Miami, Florida.Discussed the neuroanatomical relationship between the upper cervical spine subluxation and visceral autonomic neurology. Article review for the Dade County Chiropractic Society.
The Shoulder, Knee, Ankle and All That Shiatsu: How Massage Therapy is Integrated Into a Sports Rehab Chiropractic Office. January 2010. Aventura, Florida. Lecturer for Mela Therapeutics massage therapy intern program during an NFL Combine preparation program.
Electrodiagnosis EMG/NCV.   Neurodiagnostics Institute. May 2009.
Registered Yoga Teacher. 200 hour certification through the Yoga Alliance©.
17501 Biscayne Blvs #320
Aventura, Florida 33160

---