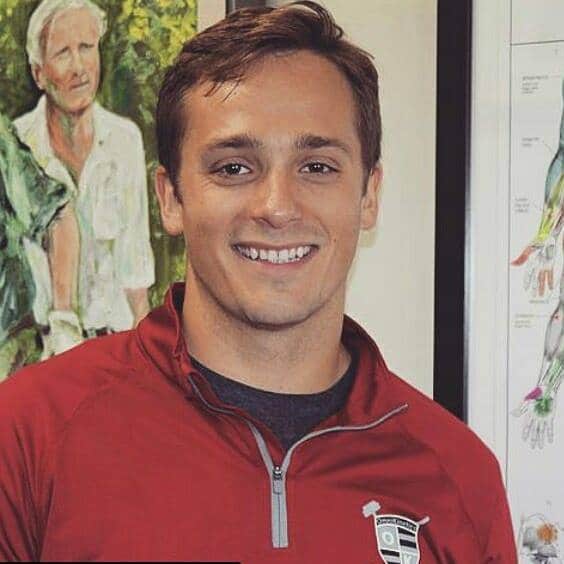 RJ Burr
Ahh, where to begin.
No, seriously, where do I begin?
I've never been much of a wordsmith, so I've always found writing these bios to be a little tricky. But hey, if I were a wiz at writing biographies, I probably wouldn't have been able to focus on my true passion in life: helping people get back to doing what they love and performing better.
I grew up playing sports my whole life. I know what it feels like to score a game-winning goal, and I know what it feels like accomplish something you worked hard for. And, consequently, I know what it feels like when an injury takes that away.
Medically speaking – and this is a technical term – it stinks. We all deserve to live as large and real a life as possible and being active is one of the significant components. So I made it my mission to help achieve this. I discovered early on that healing you wasn't something I could do alone. We have to work together. I offer therapies to jump-start your progress and; ultimately, provide the strategies that will empower you to take responsibility for your recovery of function, which will get you back on your way to pain-free living. Furthermore, I will coach you how to not only recover, but perform better at your sport or activity than you did before.
So that's my philosophy. And I had to study a great deal to get to practice it. I had graduated from Central Michigan University before I pursued my Doctor of Chiropractic Degree from the National University of Health Sciences (NUHS). I've accrued more than 700 hours of post-graduate work with an emphasis on manual therapy, rehabilitation, biomechanics, nutrition and movement restoration. I've earned certifications in Active Release Techniques (ART) and Titleist Performance Institute (TPI) medical track, and can sit for the American Chiropractic Rehab Board Diplomate (DACRB) and Certification in Mechanical Diagnosis & Therapy (McKenzie). I also continually treat recreational and professional athletes at races, tournaments, and other competitions.
In my practice at REACH Rehab + Chiropractic Performance Center, I work according to my belief that for you to have a healthy, pain-free lifestyle, you must be responsible for your health by eating well, moving well, and moving often.
Outside of the center, I practice what I preach. I'm totally into sports and experimenting with a myriad of exercises and movements. I'm also a bit of a foodie and have a passion for devising new recipes, which I share on my patient newsletter from time-to-time.
I'm a native of West Bloomfield, MI, and I now live in Plymouth with my wife, Liz, and our new human alarm clock, Charlie.- See more at: http://www.reachchiro.com/About-Us/Our-Team/a~9116--c~360393/article.html#sthash.ukb8Zz21.dpuf
Credentials: DC
2014 -- National University of Health Sciences, Doctor of Chiropractic
2010 -- Central Michigan University, Exercise Physiology
915 S Main St
Plymouth, Michigan 48170

---