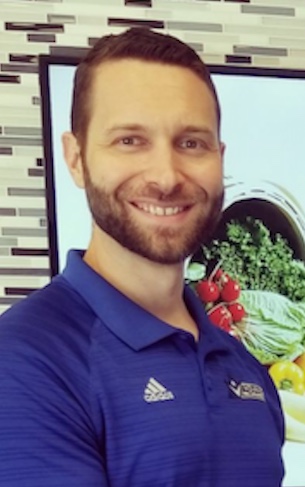 Kirk Iodice
Dr. Kirk Iodice earned his Doctor of Chiropractic degree from Logan University in St. Louis, MO, graduating magna cum laude. He received his Bachelor of Science in Health Fitness degree from the University of North Carolina at Charlotte, also graduating with honors.
While at Logan, Dr. Iodice was amongst a select few chosen as an intern at Winchester-Hilgefort Spine and Joint Center, a world-renowned manual therapy clinic. During this internship, Dr. Iodice gained hands-on knowledge about diagnosis and treatment from some of the best doctors in the world.
He also attended many advanced soft tissue, adjusting, and rehabilitation technique seminars from a variety of organizations, further enhancing his knowledge and skills.
Dr. Iodice is the Chiropractor for the KC Smoke Elite Track Club. He also is on the Recommended Physician Lists for the KC Ballet and the Runner's Edge of KC.  He is the past Official Chiropractor for the Kansas City T-Bones professional baseball club and the Kansas City Wizards (currently Sporting Kansas City).
Dr. Iodice was born in West Islip, NY, spent his early childhood in southern Florida before moving with his parents to North Carolina. After attending college at UNC-Charlotte, he and his wife moved to Wentzville, MO while attending Logan.
Upon graduation from Logan, Dr. Iodice relocated to the Olathe where he enjoys spending time with this wife, 2 daughters, and 2 dogs. He also enjoys exercising regularly and spending time with his extended family.
Techniques:
Spinal and Extremity Adjusting from Motion Palpation Institute (MPI)
Active Release Techniques (ART)
Integrative Dry Needling
Functional Taping for Musculoskeletal Injuries
FAKTR Certified Provider
Instrument Assisted Soft Tissue Mobilization (IASTM)
Rehabilitative Exercise Protocols
Kinesio Taping Methods
Reflex Locomotion
Nerve Flossing (Neuromobilizations)
Gait Analysis
TMJ (jaw joint) Treatment Protocols
Athletic Performance Enhancement and Injury Prevention
Ergonomics Consultations
Credentials: DC, ART, CIDN
BS in Health Fitness - UNC Charlotte
Doctor of Chiropractic - Logan University
Certified Integrative Dry Needling - CIDN
Active Release Techniques - full body, long tract nerve entrapments, complex protocols
Functional and Kinetic Treatment with Rehab instrument based treatments - FST Institute
Function Taping for Musculoskeletal Injuries - FST Institute
Kinesio Taping - Level 3 certified
Motion Palpation Institute - diagnostic and treatment procedures for spine and extremities
801 N Mur-Len Rd
Suite 103
Olathe, Kansas 66062

---