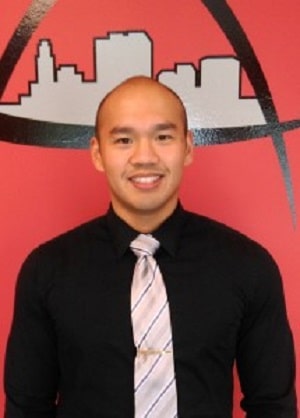 Kevin Do
Dr. Do developed his passion for exercise through his own personal struggle with weight issues as an adolescent.  His success with overcoming childhood obesity through exercise led him to become a personal trainer, and to pursue a degree in Exercise Science at The Ohio State University.  He furthered his studies at the University of Indianapolis and received his Doctorate in Physical Therapy in 2015.
Dr. Do's personal success has enabled him to develop a unique sense of compassion and empathy for all of his patients.  He specializes in the treatment of shoulder and knee dysfunction for athletes, injured workers, and individuals of all physical activity levels.  Dr. Do emphasizes the use of manual techniques, including trigger point dry needling, and functional movement patterns to enable his patients to return to pain free activity.  In addition, he performs on-site ergonomic assessments and designs individualized work-conditioning programs for injured workers to safely return to work.  He has a unique concentration in helping injured golfers return to sport, and continues to strive to bridge the gap between rehabilitation and fitness.
Dr. Do lives in Hilliard, OH and is an active member of the community, including coaching athletes for Special Olympics of Ohio.  He is a Cleveland sports enthusiast, and enjoys traveling, weight-lifting, and spending time with family and friends.
Credentials: PT, DPT, CIDN
Doctor of Physical Therapy, University of Indianapolis, 2015
Bachelor of Science, Exercise Science, The Ohio State University, 2012
5551 Hilliard Rome Office Park
Hilliard, Ohio 43026

---