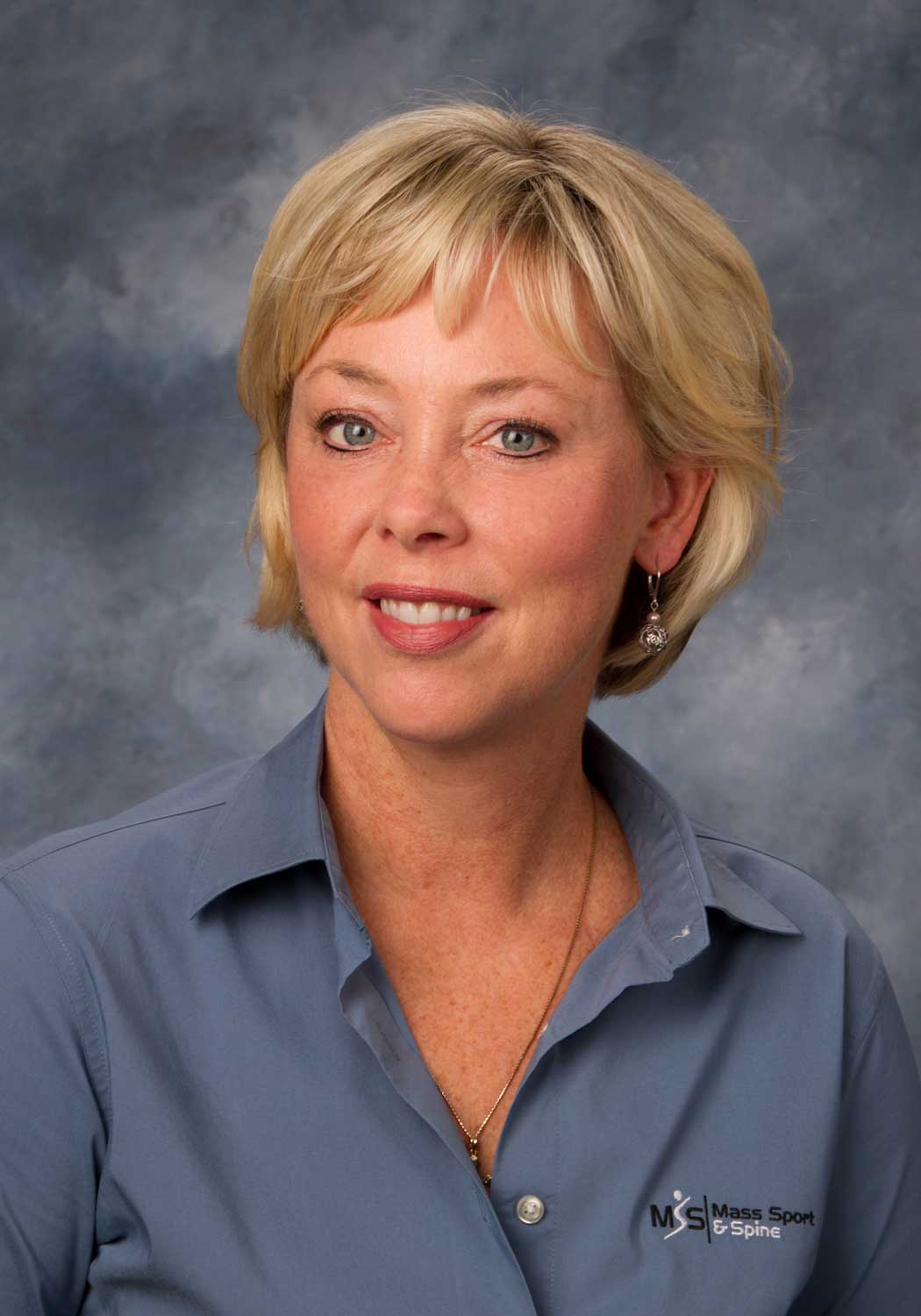 Eileen M. Murphy
Eileen, a 1982 graduate of The College of St. Scholastica, Duluth, MN, has over 35 years of clinical experience. She is Owner of Mass Sport & Spine. Twice, Eileen has been Board Certified by the American Physical Therapy Association in the Specialty of Orthopedics (OCS). She is Manual Therapy Certified (MTC) through the Institute for Graduate Physical Therapy, St. Augustine Florida. Manual therapy certification has helped augment her orthopedic clinical skills in the areas of: Sports Medicine, Post-op care, extremity and spine mobilization, myofascial release, muscle energy, and spinal stabilization. She is Level I and II certified in Dry Needling by the American Academy of Manipulative Therapy. She is also Dry Needling Certified (CIDN) through the Integrative Dry Needling Institute, fulfilling basic and advanced competency. Eileen's course work and treatments incorporate Graston (Instrument Assisted Soft Tissue Mobilizaton) and Kinesio Tape®, which are great adjuncts to her manual skills. She has developed and presented professional and community education programs in the areas of spinal dysfunction, low back pain, Sacroiliac dysfunction, and care/ treatment of the spine. Eileen participated in a Mini-Residency at the University of Minnesota, School of Dentistry, with emphasis on the evaluation and treatment of TMJ/TMD, Headaches, and Craniofascial/Cervical pain.
Credentials: PT,OCS, CIDN, MTC
Contributor to Research- American Academy of Orthopedics (May 1998); "Ambulatory Spinal Decompression"; Carlson, Murphy, Becker; Published May 1998; presented at Fall Conference of American Academy of Orthopedics.
Electronic Medical Records-Are They for You?; Murphy, Eileen  Impact Magazine-Volume #; Issue 4; Publication by the Private Practice Section of the APTA.
CIDN 2018-Dr. Ma's Integrative Dry needling: Foundation and Advanced
DN Level I and II 2015- American Academy of Manipulative Therapy
Kinsio University- Level I and II 2016
Graston Level I 2011
Board Certified Specialist (OCS) by APTA American Board Of PT Specialties- 1998 & 2008
Manual Therapy Certification - Institute for Graduate Physical Therapy; St. Augustine, FLA 1994
655 Main St.
Walpole, Massachusetts 02081

---