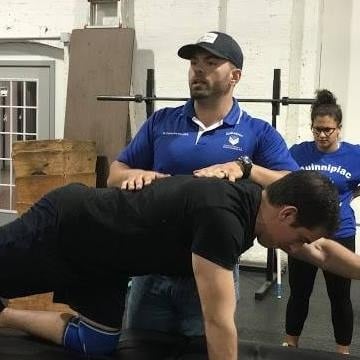 Dr. Dustin Gartner
Dr. Gartner received his Doctorate of Physical Therapy degree from Quinnipiac University in Hamden, CT. He is highly specialized in the evaluation, diagnosis and treatment of neuromusculoskeletal movement disorders. During his distinctive evaluation process, Dr. Gartner seeks to address not only the source of the patient's pain, but also the cause of the dysfunction, which he states has been a pivotal part of improving patient outcomes long term.
Dr. Gartner has established a particular interest in sport specific strength and conditioning, particularly at the high school and collegiate level, as well as tactical strength and conditioning in the military, law enforcement and other first responder populations. In addition, Dr. Gartner has found a niche in treating dizziness/vertigo and balance disorders related to the vestibular system (inner ear), as well as post-concussion syndrome. Vestibular physical therapy is a unique sub-specialty in the profession. He is also actively pursuing a commission in the US Army Reserve as a Physical Therapist.
He has received advanced training/certifications in the following areas:
-Certified Mulligan Practitioner (CMP)
-Integrative Dry Needling Certified
-NSCA Certified Strength and Conditioning Specialist (CSCS)
-NSCA Tactical Strength and Conditioning Facilitator (TSAC-F)
-Vestibular Physical Therapist/Post Concussion Syndrome (PCS) Rehabilitation
-Thoracic and Cervical Joint Mobilization/Manipulation
-Functional Range Release® Practitioner
-Selective Functional Movement Assessment (SFMA) Certified
Dr. Gartner's experience as a strength and conditioning specialist has instilled a passion for integrating overall health, wellness and fitness into his physical therapy practice in order to optimize his patients' functional mobility.
Credentials: DPT, CMP, CSCS, TSAC-F
2012, Quinnipiac University, Doctorate of Physical Therapy
2009, Quinnipiac University, BS Health and Science Studies
2015, Certified Mulligan Practitioner, Mulligan Concept
2019, NSCA Certified Strength and Conditioning Specialist (CSCS)
2019, NSCA Tactical Strength and Conditioning Facilitator (TSAC-F)
2334 Whitney Ave.
Hamden, Connecticut 06518

---