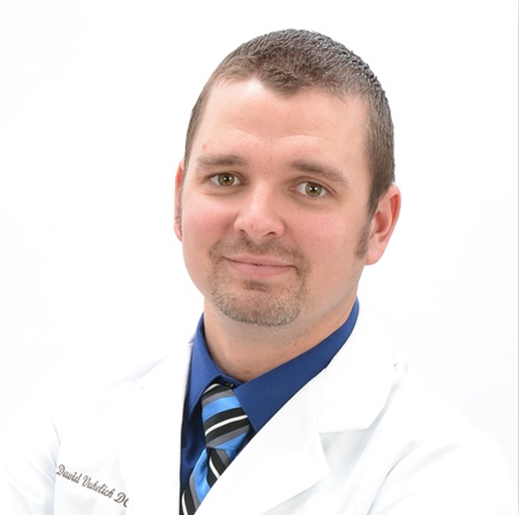 Dr. David Vukelich
Dr. Vukelich's path to chiropractic care began in his home state of Minnesota, the "State of Hockey", where hockey isn't just a sport, but a way of life. People don't just enjoy the sport, they live and breathe hockey, and Dr. Vukelich was no exception.
In high school, Dr. Vukelich also developed a love for soccer, which led him to attend Emory and Henry College on a full athletic soccer scholarship. After receiving an Associates of Arts degree from Anoka-Ramsey College in 2002, Dr. Vukelich relocated to Grand Junction, Colorado to study pre-med at Mesa State. During his college years, he continued to play hockey and soccer and enjoyed the great outdoors of Colorado through hiking, mountain biking, and skiing.
While studying pre-med with the intention of being an orthopedic surgeon, Dr. Vukelich was introduced to chiropractic healthcare and discovered that he wanted to be more involved in patient care and developing a one-on-one relationship with his patients.
In 2008, family took him back to Minnesota where he completed his Bachelors of Science in Human Biology and Doctorate of Chiropractic at Northwestern Health Sciences University. Following his graduation, he moved back to Colorado where he started his own chiropractic clinic in Glenwood Springs, specializing in sports injuries with an emphasis on musculoskeletal conditions.
Dr. Vukelich has had the honor of sponsoring and treating numerous X-Games athletes, professional skiers, hockey players and snocross athletes. During his time in Glenwood Springs, he also coached a youth hockey team, the Grizzlies, who won their first regional championship and placement in the state championship since the start of the program ten years prior.
Constantly in pursuit of his next outdoor adventure, Dr. Vukelich moved to Alaska where he continued his chiropractic career with a practice specializing in disc injuries and spinal pathologies. Dr. Vukelich became advanced in physical modalities, Kinesio Tape, and muscle and joint rehabilitation. While not in the office, he could be found climbing the peaks of Alaska, backcountry skiing, snowmobiling or playing hockey.
After four years in Alaska, the mountains of Colorado called Dr. Vukelich back. Dr. Vukelich is eager to promote general wellness, point specific pain relief and helping patients achieve optimal health so that they are able to continue to enjoy the endless adventures and opportunities in Colorado.
Credentials: D.C., S.Pc, B.Sc
100 Midland Ave Suite 280
Glenwood Springs, Colorado 81601

---