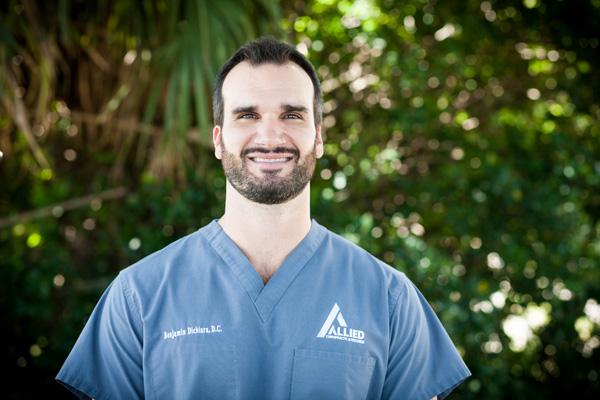 Benjamin Dichiara
Dr. Ben Dichiara was born in New Orleans. After graduating from Brother Martin High School, he went to LSU where he received his bachelors degree in Kinesiology, with a concentration in Human Movement Science. Upon graduating from LSU, he attended Texas Chiropractic College where he received advanced training in the treatment and diagnosis of Neuro-musculo-skeletal disorders. Dr. Ben was the first in a group of chiropractic interns who did rotations at Rice University where he treated athletes from almost every sport. He completed another 110 hours of schooling to become a Certified Chiropractic Sports Physician. He has a passion for athletics and he loves to treat and rehabilitate sports injuries to get patients back to their 100% as quickly as possible.
"I am also certified in Active Release Technique, Graston Technique, and Kinesio Taping. All of these are soft tissue therapies that address several structures around the joints but also the muscles and the nerves, as well as the interaction between these structures in the body. I am a certified Chiropractic Sports Practitioner, so I see a lot of sports injuries - from athletes to weekend warriors - and what I've learned is that a lot of the injuries that our athletes present are due to repetitive motion injuries, a lot of the same injuries that people who sit at a desk or are on their feet all day will be susceptible to."- Dr. Benjamin Dichiara
He currently resides in Mandeville with his wife Ashley, and their 2 children, Drake and Elise.
Credentials: DC, CCSP, CIDN
2009-Texas Chiropractic College, Doctorate of Chiropractic
2005-Lousiana State University, Bachelors of Science Kinesiology with Human Movement Concentration
2016- Elite Provider Network Active Release Technique
2010- Certified Chiropractic Sports Practicioner
2008-2010- Active Release Technique, Full Body Certified and Peripheral Nerve Entrapment Certified
2007- Kinesiotaping Level II Certified
2006- Graston Level I Certified
110 Veterans Blvd
Suite 130
Metairie, Louisiana 70005

---