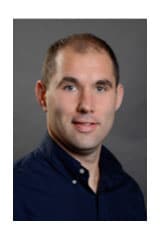 David Griswold, Ph.D, DPT is an Assistant Professor in the Department of Physical Therapy at Youngstown State University (YSU). David received his Doctorate of Physical Therapy (DPT) from YSU in 2008 and his Ph.D in Physical Therapy from Nova Southeastern University in March of 2017. His primary area of teaching at YSU involves manual therapy for orthopedic conditions. Clinically, David has practiced dry needling for 9 years and is an accredited instructor for Integrative Dry Needling Institute for which he has instructed over 45 courses in 12 states. In addition to dry needling, he specializes in other forms of orthopedic manual therapy and vestibular rehabilitation. Manual therapy certifications include; Orthopedic Manual Therapist (COMT) through Maitland Australian Physiotherapy Seminars, Mulligan Concept Practitioner (CMP), and Integrative Dry Needling (CIDN). Current research agenda includes the use of orthopedic manual therapy for the treatment of spinal conditions and therapeutic effects of dry needling. Research manuscripts earning publication involve assessing manual therapy interventions for orthopedic conditions. He is a member of the American Physical Therapy Association (APTA) including the specialty interest section in Orthopedics as well as a member of the American Academy of Orthopedic Manual Physical Therapy (AAOMPT).
Current Research Projects:
Randomized controlled trial comparing the use of dry needling to manual therapy for patients with mechanical low back pain. – Data Collection 42 subjects completed. Griswold, D, Learman, K., Gargano, F.
Psychometric properties of Myofascial Trigger Points. A Systematic Review. Griswold, D.,
Learman, K. – Review Process
A Pragmatically Applied Cervical and Thoracic Non-thrust Mobilizations versus Thrust
Manipulation for Patients with Mechanical Neck Pain. A Multicenter Randomized Clinical Trial. – Data Collection 62 subjects completed. Griswold, D., Kolber, M., Cleland, JA., Learman, K.