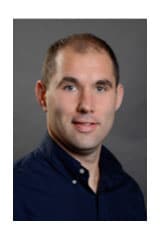 Dr. David Griswold, Dr. Frank Gargano, and Dr. Ma have been working in collaboration and consulting on dry needling since 2009. Dr. Griswold is an Assistant Professor at Youngstown State University in the Department of Physical Therapy.
He received his certification in dry needling through Dr. Ma's Biomedical Dry Needling Institute. Clinically, David has specialized in orthopedic manual therapy, dry needling, and vestibular rehabilitation. Dr. Griswold is also a Certified Orthopedic Manual Therapy (COMT) through Maitland Australian Physiotherapy Seminars and a Certified Mulligan Concept Practitioner (CMP). His current research projects include the use of orthopedic manual therapy for the treatment of mechanical neck pain and the neurophysiological effects of dry needling.
Research manuscripts earning publication involve assessing techniques used for orthopedic conditions. Currently, David is enrolled at Nova Southeastern University in Ft. Lauderdale, Fl. where he is pursuing his PhD in physical therapy. He is a member of the American Physical Therapy Association (APTA) including the specialty interest section in orthopedics.
Current Research Projects:
Comparing the early use of cervical/upper thoracic mobilization and manipulation for individuals with mechanical neck pain; a pragmatic controlled study. Griswold, D. , Learman, K. Cleland, J., Gargano, F., O'hallaran, B. – In Review
Randomized controlled trial comparing the use of dry needling to manual therapy for patients with mechanical low back pain. – Learman, K., Griswold, D., Gargano, F.
Manual traction separates glenohumeral joint surfaces.
– Schomacher, J., Gattermeier, A., Griswold, D., Learman, K. – Accepted