Take an Integrative Dry Needling Course !
Integrative Dry Needling (IDN) is the third generation of dry needling practice. Our approach concentrates not ONLY on trigger points but considers the systemic neurological relationship of pain and tissue dysfunction as well as sensory nerve modulation and physiology. IDN offers Dry Needling Courses to medical practitioners.
*This is original material and can ONLY be learned from Integrative Dry Needling Institute.
Now Available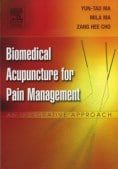 Biomedical Acupuncture for Pain Management: An Integrative Approach
Author(s): Yun-tao Ma, Mila Ma, Z.H.Cho, Elsevier, 2005
IDN Special Offer – $95
Order Your Copy Today!